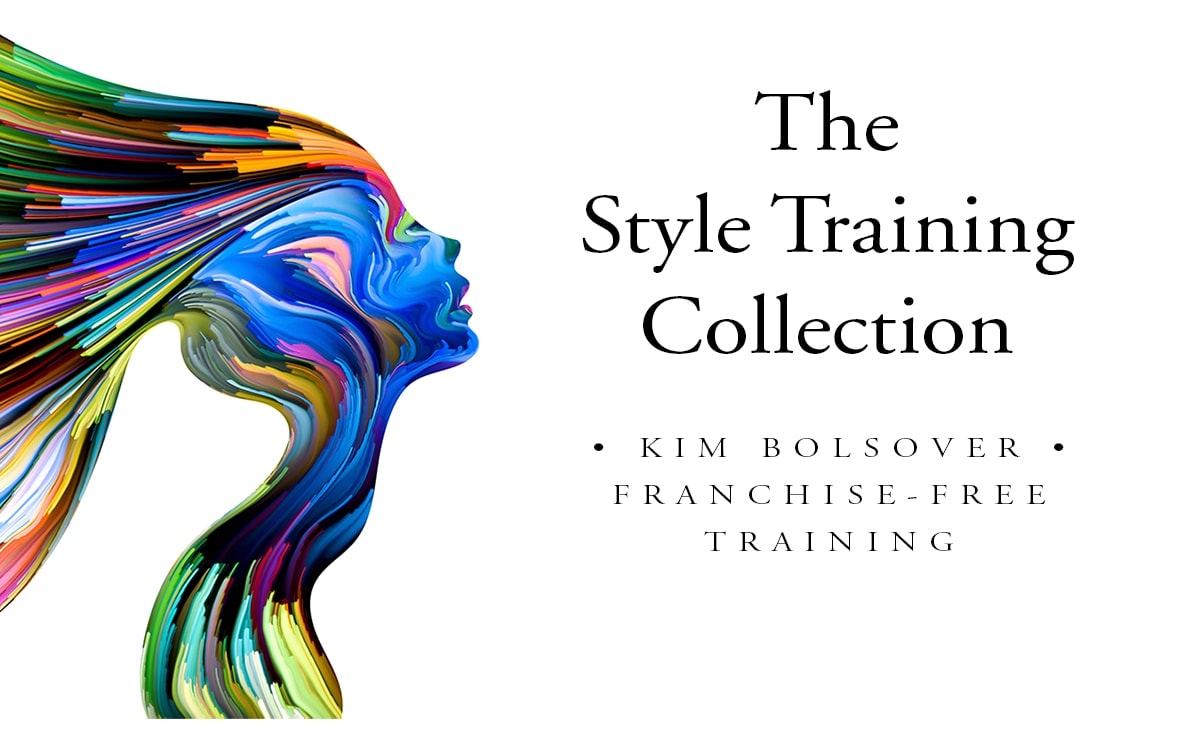 Ladies' Personal Style,
Personal Shopping and Wardrobe Planning Training
with Colour Style Image Audiobooks,
Step-by-Step Colour & Style Masterclasses,
and Image Consultancy Mini-courses
Style Training Collection Special Offer
Celebrate in style
and give your image consultancy a huge boost with new training and huge savings
The Style Training Collection Special Offer Includes:
1. Fabulous Personal Style Course
Franchise-free, up-to-date, ladies' personal style training, including shape, scale and style personality. Whether it's to start your own personal style business, or add style to your existing image business, this personal style course caters for the savvy client who doesn't want to be pinned to a wall and measured to within an inch of her life! Learn how to diagnose your client's body shape without needing to measure or touch her, 5 different ways to diagnose your clients' style personality, a step-by-step approach to style consultations & workshops, and lots more. Full course details
On this ladies personal style course learn at your own pace
5 different ways to diagnose your clients' style personality
how to diagnose your client's body shape without needing to measure or touch her
how to advise ladies of all ages about which styles, shapes and lengths will make them look their most fabulous
how to assess and solve figure problems
tried-and-tested marketing techniques
how to get your first style clients
Transform your existing image business by
providing 1-to-1 style consultations to your clients
providing style workshops for your clients
offering all-new totally personalised styling services
Boost your style client's self-confidence by helping them look and feel absolutely fabulous! Help ladies make the most of their Body Shape and Style Personality. Make an impact and provide a styling service that changes your clients' lives for the better by showing them:
I started out with 5 Body Shapes, I've worked with 9, I've used up to 12, but now I stick to just 3 Body Shapes – it's easy to learn, easy to remember, and your client will 'get it' straight away. When it comes to Style Personality, I can't begin to tell you how many different ones I've tried and discarded over the last 30+ years. On this course I'll introduce you to 6 Style Personalities that work and as this is all franchise-free training, you can use different titles and adapt the content to suit your own business needs.
You will also learn how to:
advise on jewellery and other accessories
select the most flattering hairstyles for your client
select the most flattering glasses for your client
select the most flattering hats for your client
2. Fabulous Personal Shopping Course
Too many image consultants try a wardrobe weed-out or personal shopping trip, find it a hideously stressful experience and vow never to do it again! This course solves all those problems; it's totally different from all the others out there; learn how to take the stress out of personal shopping and wardrobe planning. Put together a step-by-step plan to help your client manage her wardrobe and create a step-by-step plan for personal shopping trips too. Learn how to promote your services and make them fun and profitable. Full course details
On the course I've also included a few ideas that you won't have considered before to help you use your considerable image skills to deliver even more value to your clients and help you grow your business along the way. You will learn:
how to offer a wardrobe planning service
how to review your client's wardrobe and determine what's to be discarded or purchased
how to advise your client on making the most of what she already has in her wardrobe
some great tips on accessorising to show your client
how to incorporate the latest fashion trends into your client's wardrobe, or not!
how to organise and run personalised shopping trips
how to identify potential clients who need either or both of your new services
how to build great relationships with your clients and make long-term income
how to market your brand-new services
3. Step-by-Step Colour & Style Masterclasses (20)
Over 45 minutes of audio tuition in every step-by-step masterclass, with notes and ready-to-print workbook, homework and exercises.
4. Colour Style Image Audiobooks (34)
Each audiobook is around 40 to 60 minutes with easy online access from your desktop, laptop, tablet or smartphone. 34 audiobook titles, over 30 hours of learning, equivalent to 5 days of training, all in one collection.
5. Image Consultancy Mini-courses (3)
Mini courses with download & print workbooks, videos and audio content.
Total value £2085
(when purchased separately)